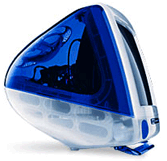 Adding another computer in the house is always someting of a joy, sometimes a burden. In this case, it's a Macintosh replacing a PC. As my personal reliance on Windows systems disolves, the need for another Mac becomes evident. Last April, it was the Mac mini, which is my main computer (my long promised blog on my switchover will eventualy get done). And my Umax c500 clone from 1997 is still in operation (running Mac OS 9.1 with 64Mb RAM and a 6gb hard drive).
This time, it's an iMac 500Mhz indigo – click the photo above to see the specs. This one has 320Mb of RAM and a broken CD-RW, which I am replacing with a DVD/CD drive (slot loading). Found it on eBay and went locally to pick it up (saved $35 shipping). I've had it apart, cleaned the inside, the keyboard (each and every key had some weird spilage on it) and am getting it ready to sit at the desk next to mine for general use by the rest of my family.
I will still have one PC left in the house – my aging Toshiba Tecra 720CDT (specs) and it will have to do if for some reason we need a real PC to do something on (my mini runs Virtual PC 7.0.2, running Windows XP Pro).
And I am hoping sometime later this summer to replace the above Toshiba with at least an iBook. As a long time Mac user (got my first Mac 512K in 1985), this has been a goal of mine to remove Windows-based systems from my personal life. It's not that I hate Windows… my entire IT career depends on it. But to be perfectly honest, when I come home, I would like to have a computer that I don't have to constantly tweak or the need to remove spy/malware from. I just want to sit down and use it. The Mac fits that bill perfectly.
So where will the current PC go? It's not a bad system – AMD 1.5ghz, 512Mb RAM, 40gb hard drive. Most likely it will go to my daughter, who if she is reading this, we need to talk about another incentive deal before I make a final decision on this.
So some 26 years after my first venture into the Macintosh world, the Mac has finally taken over as the computer of choice at home. And i'm pretty happy about that.